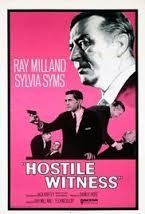 Jimmy Page of Led Zeppelin fame was called as a hostile adverse witness by the opposing counsel in the opening alleged plagiarism of "Stairway to Heaven" trial.
Rule 12-5 (19) describes an adverse witness aka hostile witness as a "party who is adverse in interest". ie  Jimmy Page was a defendant but was called as a witness by the plaintiff's lawyer who is suing him.
There is a general rule of evidence that a lawyer cannot attempt to impeach the credibility of his or her own witness in direct examination. You are not allowed to cross examine your own witness.
An exception on occasion arises where your witness makes testifies contrary to a previous statement or testimony, the party may direct the witnesse's attention to the prior statement. The lawyer may seek an order that the witness is adverse aka hostile and with leave of the court, be allowed to cross examine that witness, particularly about the inconsistent testimony.
Rule 12-5 (21) states that 7 days notice before the date on which the attendance of the intended party is required,  of the intention to call the opposing party as an adverse witness ,must be given along with conduct money to attend.
Rule 12-5(22) allows no notice to be given of the intention to call a witness and seek to have them declared adverse in interest if the person is in attendance at the trial. Very often once the notice is given the opposing counsel as a matte of professional courtesy will undertake to call the party as a witness thus allowing cross examination of the witness in the usual fashion.
Rule 12-5 ( 26) provides that the party calling the witness as adverse is entitled to cross examine the witness on one or more issues.
Canada Inc. v Strother 2002 BCSC 1179 held that the obvious purpose of Rules 12-5 (19)-(22) is only to permit a party to call an adverse party witness to prove a fact or facts that could not otherwise be satisfactorily proven.
The subrules were not intended to give a party two " kicks at the can" of cross examinations . Nor should the rule be used where an assurance has been given that the adverse party witness will be called to testify as part of the adverse party's case.