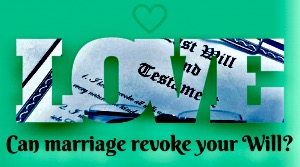 Pace Estate 2016 BCSC 2306 held that a 2001 will left to "my common law spouse  of four years " was not revoked by their subsequent marriage under what was then S 15 Wills Act that provided that marriage revoked a will. The parties married over a year  after the execution of the will.
The will did not expressly state that the will was being signed in " contemplation " of their marriage.
The parties signed mirror wills at the time leaving the residue of each of their estates to the other.
The parties separated a few years later and divorced in 2009. The effect of S. 16 of the Wills act invalidated the appointment of that spouse as executrix and as the recipient of the residue of his estate when he subsequently died in 2015. In fact he had been living with another spouse for about 2 years prior to his death and there was a dispute as to whether she was his spouse.
Since the introduction of WESA on March 31, 2014 marriage no longer does revoke a previous will.
It is not clear why the first spouse sought an order that the 2002 will had not been revoked by their subsequent marriage, but in any event the court held that it had not been revoked.
Extrinsic evidence was allowed and indicated to the court that the deceased clearly intended his will to be made in contemplation of his marriage even though it did not expressly state so.
The court followed the reasoning of the Court of Appeal in MacLean estate v Christianson 2010 BCCA 374 at paras 30-31 where the court held that it had the right to ascertain all the facts that were known to the testator at the time the will was signed so as to determine the intention.
They had arranged their affairs so that they were the named beneficiaries of each others pensions and insurance.
The court further held that the will could not have been rectified under the provisions of  59 WESA  as his death occurred after the coming into force of WESA  and new statutes are presumed to not have retrospective application where such statutes affect the substantive  rights of others R. Dineley ( 2012) SCJ #58.
The court declared to have held other wise would have frustrated the clear intent of the parties and have run afoul of the presumption against an interpretation that resulted in an intestacy.
The court held that under S 18 of the Wills act the will had been "revived" by showing a contrary intention  that the will had not been revoked by the  subsequent marriage.