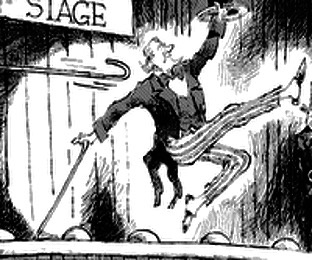 I have noticed over the years and increasing willingness on the part of the court to remove difficult executors that are holding up the probate and administration of the estate.
In one of the shortest cases I have read Re McRae estate, 2015  BCSC 1723, the court removed an absent and difficult brother in favor of a local and carrying brother, when all three brothers had been named executors. (One other had renounced).
An application by Campbell Warren McRae ("Campbell") for the removal of Russell Stewart McRae ("Russell") as one of three Executors of the estate of the late Allan Campbell Greig McRae ("Allan").
[2]             Allan passed away in January of this year, leaving his three sons, Campbell, Lawrence Duncan McRae ("Lawrence") and Russell, surviving him.  All three of the sons were named as Executors and Trustees in Allan's last Will and Testament dated April 24, 1984.
[3]             Campbell resides in the Lower Mainland, as did Allan, and apparently played some role in the ongoing care and assistance of Allan during the past several years of his life.  The extent and details of that role are in no way made clear from the materials provided in support of this application and in general, the affidavit material provided by both parties is poor.  It appears, however, to be common ground that Campbell held Allan's Power of Attorney and the various e-mail exhibits to his affidavit seem to suggest that he regularly attended on his father to assist with personal, financial and medical matters.
[4]             Lawrence lives somewhere in the U.S.A. and the nature and extent of his relationship with Allan over the past several years is a mystery. No evidence is provided in this regard other than that Lawrence came to the Lower Mainland for a few days following Allan's death, assisted with the clean-up of Allan's apartment and attended at a lawyer's office with Campbell at which attendance Lawrence signed a renunciation of his role as Executor.
[5]             Russell, the third brother, lives in Arizona.  Again the material is extremely scant regarding this person and his relationship to the other three, particularly Allan.  A review of all of the material however seems to reveal that Russell was estranged from Allan, had not seen him for some 10 years, learned of Allan's death from Campbell and chose not to attend the Lower Mainland following Allan's death either to connect with family or to attend to or assist with estate matters and Executors duties.
[6]             The majority of assistance which I can gain from the affidavit material comes from the exhibits.  Without going into detail, it is clear from the earliest e-mail exchanges that there was and is little chance of the two remaining Executors cooperating in the finalization and administration of Allan's estate.  Russell appears to have been content to remain at a distance while directing others to perform various duties according to his preference and report back to him; Campbell appears to have reacted defensively to both the content and the unmistakeable tone of Russell's correspondence.
[7]             It is clear to me that these parties cannot work together to administer Allan's estate.  The Public Guardian and Trustee has been approached but I am told that their office will not become involved as long as there is a family member who is willing to take on the task of administering the estate.  I am also aware that the estate is somewhat modest with a gross value of just over $137,000 and is to be divided equally among the three sons at final distribution.
[8]             Considering all of the above, I am of the view that Campbell is the most appropriate person to proceed with the administration of Allan's estate.  I order that Russell Stewart McRae be removed as an Executor and Trustee under the last Will of and in the estate of Allan Campbell Greig McRae.