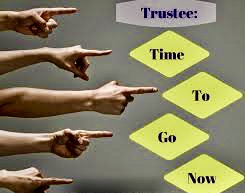 Two Ontario cases summarize the law relating to the removal of a trustee appointed by a will and would likely be followed as the law in British Columbia.
In Chambers Estate v. Chambers 2013 ONCA 511, the court found that a testator's wishes as to who should act as trustee should only be interfered with in rare circumstances.
In Radford v. Wilkins, 2008 CanLii 45548 (ONSC), Quinn J. set out the legal principles that apply in an application to remove an estate trustee.
9 Principles of Trustee Removal
The Superior Court of Justice has inherent jurisdiction to remove trustees
An application to remove an executor may be made by any person interested in the estate of the deceased
The choice of estate trustee is not to be lightly interfered with
There must be a clear necessity warranting the removal
The removal of an estate trustee should only occur on the clearest of evidence and there is no other course to follow
In deciding whether or not to remove an estate trustee, the court's main guide should be the welfare of the beneficiaries
The applicant must show that the non-removal of the trustee will likely prevent the trust from being property executed
Removal is not intended to punish past misconduct
Friction alone is not a reason for removal