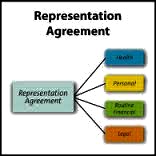 Baker-McGrotty v Baker 2016 BCSC 699 discuss when the court will exercise its discretion to NOT terminate representation agreements after the appointment of a committee under the Patients Property Act.
26 Section 19 of the Patients Property act provides as follows:
19 On a person becoming a patient as defined in paragraph (b) of the definition of "patient" in section 1,
(a) every power of attorney given by the person is terminated, and
(b) unless the court orders otherwise, every representation agreement made by the person is terminated.
27 In Lindberg v. Lindberg, 2010 BCSC 1127 (B.C. S.C. [In Chambers]), Mr. Justice Willcock noted that the PPA is silent in relation to the factors the court is to consider in the exercise of its residual discretion to uphold a representation agreement following a declaration of incapacity under the PPA:
[49] The law permits the representation agreement to continue to be effective, despite the onset of disability, and recognizes the autonomous choice of a representative by a patient. The difficulty is that s. 19 of the PPA permits a representation agreement to be saved but does not establish the criteria which should be considered in determining whether or not to exercise that discretion. In the absence of further explicit direction in the legislation, I consider the following factors to be appropriate criteria:
(a) the circumstances in which the representation agreement was executed;
(b) the scope of the representation agreement; and,
(c) the basis for the application to set it aside.
28 The foregoing factors were subsequently adopted by Madam Justice Ross in Dawes v. Dawes, 2012 BCSC 1323 (B.C. S.C.), and there has been no suggestion that these criteria should not apply to the case at bar.