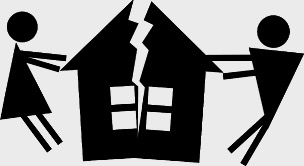 Ouster is an occurrence usually in Partition of Property proceedings that is typically defined as the wrongful dispossession or exclusion of a party from real property and involves a question of intent.
The essence of a tenancy in common is that co-owners each hold an undivided interest neither has any greater right than the other two possession of any portion of the property.
Dacyshyn v Semeniuk 2007 BCSC 71 , followed the BC Court of Appeal in Re Kostiuk (2002) 215 DLR 78, where the court stated:
"Most of the cases in which these matters ( ouster) are considered concern co-owners who have at one time shared possession of the property, and one co-owner subsequently either the user is excluded. Many of the cases arise in matrimonial disputes. There are few cases where the co-owners are strangers in one co-owner has never been in possession.
The fact that a co-owner had sole possession does not prove ouster because one co-owner is entitled to be in possession of the entirety, but if possession is demanded and refused, on the grounds that the co-owner in possession claims the whole property as his or her own, such possession is adverse and "the co-owner of alleging ouster must prove that the other co-owner is in possession with the intention of ousting him or her . Allison v Smith (1877) 17 NBR 199 (CA)"
Apart from actual expulsion, it appears that destruction of the property held in common may also amount to ouster.
In Wiggins v White (1836) to NBR 179 (CA) , the court stated that where in the case of tenants-in-common there has been a destruction of the property, and it is a matter worthy of very serious consideration whether any and what other acts, which so far as the interest of the parties is concerned, are equivalent to a destruction, can come within the limits of the exception that a party can maintain an action against the other for trespass to common property.
Occupational Rent
A claim for occupational rent can only be successively brought where one owner has been ousted from the property by another owner.
In Kostiuk 2002 BCCA 410 the appeal court stated that the fact that a co-owner had possession does not prove ouster because one co-owner is entitled to be in possession of the entirety, but if possession is demanded in refused on the grounds that the co-owner in possession claims the whole property as his or her own, and such possession is adverse and ouster enough. Doe v Prosser (1774) 1 Cowp.217