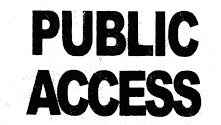 The courts have long held a policy of open courts including access to court documents.
In Sherman Estate v. Donovan, 2021 SCC 25, the Supreme Court of Canada considered access to certain court records of a probate file.
[19] In Sherman Estate, the Court stated:
[1] This Court has been resolute in recognizing that the open court principle is protected by the constitutionally entrenched right of freedom of expression and, as such, it represents a central feature of a liberal democracy. As a general rule, the public can attend hearings and consult court files and the press — the eyes and ears of the public — is left free to inquire and comment on the workings of the courts, all of which helps make the justice system fair and accountable.
[2] Accordingly, there is a strong presumption in favour of open courts. It is understood that this allows for public scrutiny which can be the source of inconvenience and even embarrassment to those who feel that their engagement in the justice system brings intrusion into their private lives. But this discomfort is not, as a general matter, enough to overturn the strong presumption that the public can attend hearings and that court files can be consulted and reported upon by the free press.
…
[37] Court proceedings are presumptively open to the public ([Attorney General of Nova Scotia v. MacIntyre, [1982] 1 S.C.R. 175] at p. 189; A.B. v. Bragg Communications Inc., 2012 SCC 46, [2012] 2 S.C.R. 567, at para. 11).
[38] The test for discretionary limits on presumptive court openness has been expressed as a two step inquiry involving the necessity and proportionality of the proposed order (Sierra Club [v. Canada (Minister of Finance, 2002 SCC 41] at para. 53). Upon examination, however, this test rests upon three core prerequisites that a person seeking such a limit must show. Recasting the test around these three prerequisites, without altering its essence, helps to clarify the burden on an applicant seeking an exception to the open court principle.
In order to succeed, the person asking a court to exercise discretion in a way that limits the open court presumption must establish that:
(1) court openness poses a serious risk to an important public interest;
(2) the order sought is necessary to prevent this serious risk to the identified interest because reasonably alternative measures will not prevent this risk; and,
(3) as a matter of proportionality, the benefits of the order outweigh its negative effects.
Only where all three of these prerequisites have been met can a discretionary limit on openness — for example, a sealing order, a publication ban, an order excluding the public from a hearing, or a redaction order — properly be ordered.
This test applies to all discretionary limits on court openness, subject only to valid legislative enactments (Toronto Star Newspapers Ltd. v. Ontario, 2005 SCC 41, [2005] 2 S.C.R. 188, at paras. 7 and 22).