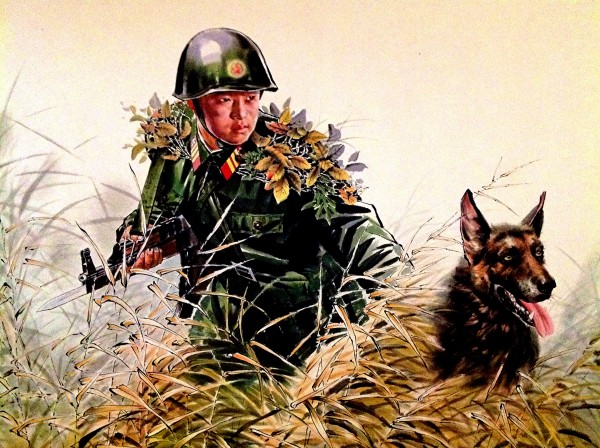 Here is a copy of a wall size painting I purchased that I have named "Welcome to North Korea".
My second  trip to North Korea began with the usual  visit to their embassy in Beijing
It consists of a very large building secured behind two high barb-wired fences and several armed Chinese guards. The Chinese guards are there to ensure the Korean embassy staff do not leave.
Visas in hand, we flew from Beijing to Pyongyang, the show capital of North Korea. Two years previously, there was a palpable jitteriness among passengers on the aging Ilyushin plane built in Russia. Now two years later, we flew in a modern Russian plane, apparently the only plane flying this route.
Upon our arrival, the framiliar portrait of Kim ill Sung, North Korea's late leader, the Eternal President, still gazed down on an expanse of empty concrete. Again the customs inspector's chief concern was to confiscate my mobile telephone for the duration of my visit. It was returned upon departure.
Susan Ritchie's compelling story is an excellent example of how one person's vision and tireless efforts can make a huge difference to thousands.
A Person Making a Difference
I again had the great fortune to visit North Korea with Susan Ritchie, the founder of First Steps. First Steps is a humanitarian charity dedicated to feeding starving and malnourished children and supplying vitamins and nutrients to nursing and pregnant mothers. Our travelling companion was Hannah Visser, a long-time supporter of First Steps, who lived in North Korea for 4 months in 2009.
Susan Ritchie's compelling story is an excellent example of how one person's vision and tireless efforts can make a huge difference to thousands.
Susan is a Canadian-born woman who lived in South Korea with her missionary parents during her adolescence. Now a professional interpreter, she first visited North Korea 10 years ago to interpret for the exchange of diplomatic letters to establish relations between Canada and North Korea.
At that time, Susan noted a large degree of starvation and malnutrition, particularly among the children. She decided to do something about it. Starting out on her own, Susan's organization now feeds highly nutritional soy milk to up to 80,000 children each day, and provides vitamins and nutrients to pregnant women and young mothers. First Steps has over 1250 donors and operates over 75 soy-milk-producing machines in North Korea.
Starvation and malnutrition continue to be rampant in North Korea; about 37 percent of children suffer from stunted growth. One million children are chronically malnourished and 100,000 more are severely malnourished. Many of the children we met appeared years younger than their actual age. For example, a 10-year-old would appear to be 5 or 6 years old.
The executive director of the World Food Program recently visited North Korea for the first time in 5 years, and stated that the malnutrition problem for children there is much worse than she had thought. Many children are battling starvation from their beds—and losing.
It is inspirational to participate in this humanitarian work. On my first trip, I carried, on First Steps' behalf, 50 pounds of beef jerky—pure protein. This time my luggage contained 50 pounds of ampicillin, bandages, and other medications—gold in a country where it is virtually impossible to buy even an aspirin. Those supplies were donated by a pharmacist.
Susan has now visited North Korea almost 40 times and works indefatigably to stem the tide of starvation in this desperately poor country that clings to a "military first" policy. She seemingly receives a great degree of cooperation from the authorities. The reverence with which she is viewed by the various care providers, orphanages, hospital directors, and the children verges on sainthood.
First Steps is a selfless humanitarian society in a country that does not seem to concern itself with the well-being of its own people. To learn more about First Steps, please go to www.firststepscanada.org. A contribution of $3500 can basically feed 2000 children for 1 year.
Pyongyang
In many ways, time stands still in North Korea. For example, here are some headlines from the Pyongyang Times.
August 2010: "Kim Jong-Il provides field guidance to different sectors, sees performance"
May 2008: "Kim Jong-Il gives field guidance to February 8 complex"
The 2008 edition also contained an article on recently discovered American atrocities during the Korean War.
Pyongyang remains the show capital of the country and most visitors are not allowed to travel elsewhere. Of particular note, construction has begun again on the Ryugyong Hotel, a 105-storey massive concrete structure that remained unfinished for 16 years. The estimated cost to finish this behemoth is $2 billion—equal to about 10 percent of the country's annual economy.
Once completed, this hotel will have 3000 rooms and 5 rotating restaurants. What it likely will not have is guests.
Arirang Mass Gymnastic Games
I was thrilled to be able to attend a Grand Mass Gymnastics and Artistic Performance Arirang, held at the 150,000 seat Rungrado Mayday Stadium in Pyongyang.
Mass choreographed spectacles have been popular in totalitarian and military states, such as pre-World War II Soviet Union and China. Such countries have had a large influence on the formation of North Korea's culture. As with many other things, however, North Korea has taken it to a whole new level.
The size and precision of the spectacle is difficult to imagine—how can one properly convey the spectacle of watching 125,000 people enthusiastically performing the most elaborate 90-minute display of flashcards, gymnastics, dancing, music, and flashing lights?
Mass games are totally ideological in character. They praise the Workers Party of North Korea, its armed forces, and of course Great Leader Kim ill Sung. The virtually continuous change of flashcards is manipulated rhythmically by over 100,000 people and depicts Communist iconography.
…how can one properly convey the spectacle of watching 125,000 people enthusiastically performing the most elaborate 90-minute display of flashcards, gymnastics, dancing, music, and flashing lights?
The snowy mountain, lake, and log cabin represent the birthplace of Kim Jong-Il during the fight against Japanese oppression.
The Korean peninsula—north and south—is always depicted as one country that will be reunified one day, thanks to the benevolent actions of the Eternal President Kim ill Sung (he died in 1994).
Other complex displays demonstrated the close and cooperative friendship between North Korea and its principal benefactor, China. When then-Secretary of State Madeleine Albright attended these mass games in 2000, she unwittingly watched the depiction of a North Korean nuclear missile launch. This highly calibrated display by tens of thousands of people is world class. Try to imagine Cirque du Soleil with more than 100,000 performers performing simultaneously.
The North Koreans are quite rightly very proud of their mass gymnastic games, with seemingly little regard for their true economic cost. It provides an outlet for the regime to demonstrate the solidarity of the North Korean people and their common sense of purpose in support of the regime.
It also demonstrates the discipline and skill of entertainers and dancers through the glorification of the state, the leaders, and the system as a whole. Arirang is more than a public spectacle. It is really a mass mobilization event.
The North Koreans like to put their best face forward. This event is the one-party state show casting a different face to the world. Arirang is North Korea's showpiece within the showcase capital of Pyongyang.
Outside of Pyongyang is a different world. The rest of North Korea is destitute, largely lacking in power, transportation, and food. Almost half of North Koreans do not get enough to eat and malnutrition is widespread, especially for the most vulnerable—the children and the elders.
A trip to North Korea brings it home very effectively: Compared to much of the world, we live in Disneyland. Susan has made an incredible difference for so many—80,000 of these Korean children are alive, largely thanks to Susan Ritchie, First Steps, and its benefactors.