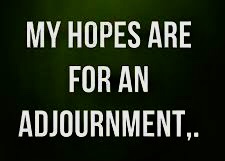 Henderson v Fisher 2020 BCSC 886 dealt with a contested adjournment application re  a trial due to the unavailability of the defence counsel for a long time.
The court refused to grant the adjournment and reviewed the law relating to adjournment applications.
The relevant aspects of Rule 12-1 state as follows:
(6) Promptly after filing a notice of trial, the filing party must serve a copy of the filed notice of trial on all parties of record.
(7) If a party on whom a notice of trial is served under subrule (6) objects to the trial date set out in that notice of trial, the party must, within 21 days after service of the notice of trial,
(a) request a case planning conference, or
(b) make an application to the court to have the trial rescheduled.
…
(9) The court may
(a) order the adjournment of a trial,
(b) fix the date of trial of a proceeding,
(c) fix the date of trial of an issue in a proceeding, or
(d) order that a trial take precedence over another trial.
Whether to adjourn a trial is a discretionary decision. Factors that may be considered on such an application include:
a) the history of the matter, including any deliberate delay or misuse of the court process;
b) the grounds, explanation and reasonableness of the request, including the availability of the parties, their counsel, and any witnesses;
c) the timeliness of the request;
d) the potential prejudice to the parties;
e) the right to a fair trial; and
f) the proper administration of justice, including the interest in the early resolution of disputes.
Navarro v. Doig River First Nation, 2015 BCSC 2173 at paras. 18–20; The Owners, Strata Plan VR 2000 v. Shaw, 1999 CanLII 6154 (B.C.S.C.) [Strata Plan VR 2000] at para. 26; Novak v. Bond, 1998 CanLII 6687 (B.C.S.C.); NMH Holdings Ltd. v. The Crestmark Developments Limited Partnership, 2011 BCSC 496 at paras. 29–32.
Right to counsel of choice
In Thibodeau v. Stanevicius, 2006 BCSC 110, the court found that the adjournment request should be denied stating:
"The defendants argue that, like the defendant in Novak, they are entitled to have what may be a complicated and serious trial conducted by experienced counsel of their choice. That is a factor the court must consider in balancing the interests of the parties. However, this case is distinguishable from Novak.
The right to have counsel of your choice has to be read in the context of that counsel being available to conduct a trial in a somewhat reasonable period of time. A three-and-a-half-year delay simply does not meet that criteria.